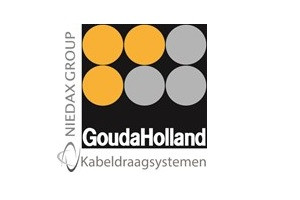 Grote Esch 80
2841 MJ Moordrecht
The Netherlands
Telephone : +31(0)182-506200
Fax : +31(0)182-506209
Internet : www.goudaholland.nl
E-mail : This email address is being protected from spambots. You need JavaScript enabled to view it.
Activities : Gouda Holland is a manufacturer of cable management systems for both industrial as well as commercial use.
Gouda Holland cable ducts are applied in the widest variety of
industries, such as the chemical and petrochemical industries, offshore activities, energy, telecommunications and dairy & food industry.
Gouda Holland produces its own standard
range of cable ducts in stainless steel, hot dip galvanised
steel, aluminum and glass reinforced polyester.
The Crafty, Crafty MF and Lock systems are particularly popular due to
their high span capacity.
Other systems also regularly used in (petro-) chemical industry are Resist, Tray, Marine Ladder and Glass Reinforced Polyester (GRP) ladder.
Gouda Holland is VCA-P, ISO:9001 certified and has DNV GL certified.
Gouda Holland is listed at Achilles JQS.
Director : W.F. van Wijk
Sales Manager : B. Erdtsieck