Quarantaineweg 10, Harbournumber 2642
3089 KP Rotterdam, The Netherlands
Telephone : +31(0)10 2992288
Fax : +31(0)10 2992277
E-mail : This email address is being protected from spambots. You need JavaScript enabled to view it.
Internet : www.vsf.nl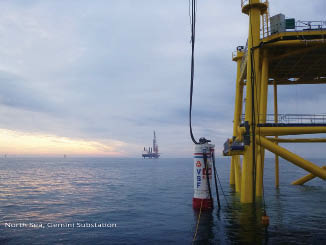 Volker Staal en Funderingen (VSF), established in Rotterdam, The Netherlands, designs, constructs, transports and installs offshore foundations for global marine, oil and gas and renewably energy industry.
During the last decades, VSF has become a renowned international player in this industry, predominantly in Europe.
VSF specializes in offshore piling works and related activities such as pile drilling, grouting, dynamic pile monitoring and pile driving analysis.
We employ our own versatile and experienced staff being a key success factor to perform safely and to the satisfaction of our Clients.
VSF also designs and manufactures structural steel components such as jetties, jackets and piling templates in their own facilities, located at the waterfront in Rotterdam with direct access to the North Sea.
VSF is a subsidiary of the Volker Wessels group.
Managing Director : P.A. Kraaijeveld
Manager Offshore : G.J. Lak