Beurtschipperstraat 1
3194 DK Hoogvliet
Telephone : +31(0)10-2952740
Fax : +31(0)10-2952709
Internet : www.draeger-mo.com
E-mail : This email address is being protected from spambots. You need JavaScript enabled to view it.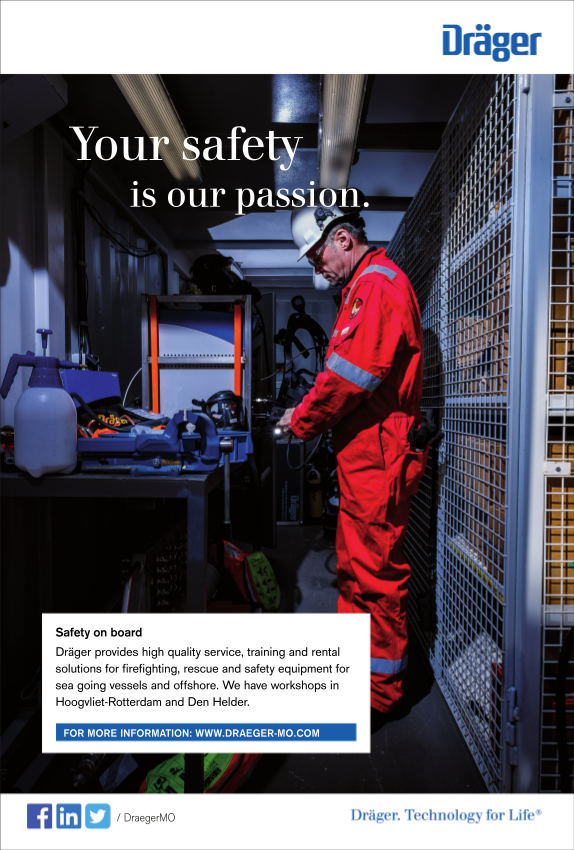 Service Center Den Helder
Koperslagersweg 14F
1786 RA Den Helder
Telephone : +31(0)223-787007
E-mail : This email address is being protected from spambots. You need JavaScript enabled to view it.
Activities :
Dräger is an international leader in safety technology.
"Technology for Life" is Dräger's guiding principle and mission.
Wherever they are deployed Dräger products protect, support and save lives.
The safety division offers its customers complete hazard management solutions with a special focus on personal safety and protecting production facilities.
The safety division's current portfolio includes stationary and mobile gas detection systems, respiratory protection, firefighting equipment, professional diving gear, and alcohol and drug-testing instruments. The Dräger Marine & Offshore division specializes in delivery, installation, service and training of fire fighting, rescue and safety equipment on board of oil & gas platforms and maritime vessels in the North Sea and beyond.
Business Unit Manager : D. de Vries
Sales Manager : H. de Jong