In 2050 all energy used in the Netherlands must come from renewable sources. Offshore wind is key to the transition to a zero-carbon energy supply.
Why offshore wind energy?
Offshore wind energy plays a key role in the energy transition. The North Sea is a good place to install wind turbines due to:
its relatively shallow waters;
its favourable wind patterns;
good access to ports and energy-consuming industries.
The costs of offshore wind energy have fallen significantly in recent years, making it the cheapest large-scale source of renewable energy.
Other sources of renewable energy will also be necessary for the energy transition, like wind energy on land, solar power and biomass energy.
Wind energy targets
The total installed capacity of offshore wind power in the Netherlands is around 2.5 gigawatts (GW) in 2021 and should increase to at least 4.5 GW by 2023. This commitment is enshrined in the Energy Agreement for Sustainable Growth. Offshore wind turbines will then supply 3.3% of the Netherlands' total energy needs.
The Coalition Agreement and the Climate Agreement (2019) include a commitment to continue the successful offshore wind energy policy. This will result in a total offshore wind power capacity of 11 GW by 2030, which is enough to supply 8.5% of all the energy in the Netherlands and 40% of our current electricity consumption.
The construction of offshore wind farms is an economic opportunity. Thanks to the large domestic market, Dutch offshore and wind power companies can further develop their expertise, which also strengthens their position on the international market. Already, Dutch companies have a share of around 25% of the total European market for offshore wind energy.
​​​​​​​Measures: Offshore Wind Energy Roadmap
Following extensive consultation with a large number of stakeholders, the government has presented the plans in the 'Offshore Wind Energy Roadmap'. This sets out, among other things, where and when the new wind farms will be built. By doing so, the Roadmap provides clarity to all stakeholders and ensures certainty for wind farm developers.
The area map below provides an overview of the locations of the wind farm zones. You can also download the Offshore wind energy area map.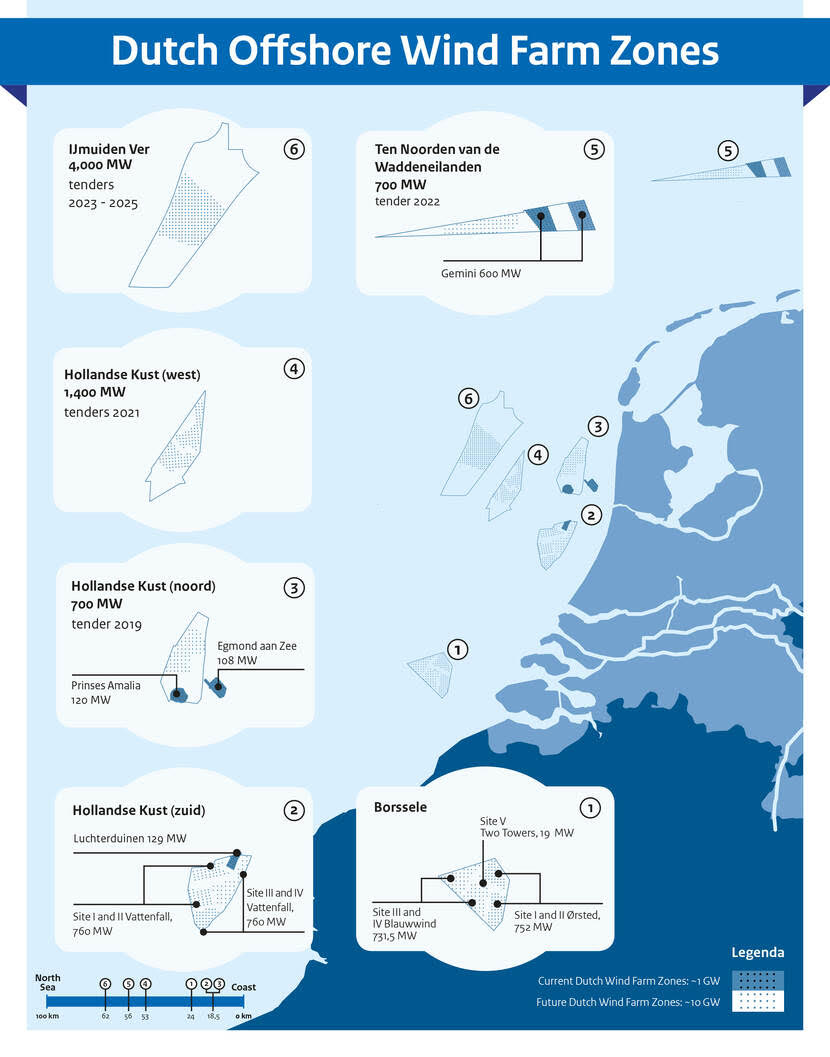 Transcript
Between 2020 and 2023, two wind farms, each with a minimum capacity of 0.7 GW, will be constructed in the Borssele Wind Farm Zone, with a further three wind farms planned 18.5 km off the coast of the provinces of South Holland and North Holland. This will be followed, between 2024 and 2030, by wind farms far out at sea to the west and north of the Netherlands in parts of the offshore wind farm zones Hollandse Kust (west), Ten Noorden van de Waddeneilanden and IJmuiden Ver.
Planning and proposed tender schedule for offshore wind energy

Capacity (GW)

Wind Farm Zone, site(s)

Tender for sites

Anticipated commissioning date of wind farm

0.7

Borssele, Sites I and II

Held in 2016

2020

0.7

Borssele, Sites III, IV en V

Held in 2016

2020

0.7

Hollandse Kust (zuid), Sites I en II

Held in 2017

2022

0.7

Hollandse Kust (zuid), Sites III en IV

Held in 2019

2023

0.7

Hollandse Kust (noord), Site V

Held in 2020

2024

0.7

Hollandse Kust (west), Site VI

Q4 2021

2025 to 2026

0.7

Hollandse Kust (west), Site VII

Q4 2021

2025 to 2026

0.7

Ten noorden van de Waddeneilanden, Site I

Q4 2022

2027

1

IJmuiden Ver, Site I

Q4 2023

2028

1

IJmuiden Ver, Site II

Q4 2023

2028

1

IJmuiden Ver, Site III

Q4 2025

2029

1

IJmuiden Ver, Site IV

Q4 2025

2029
Wind farm construction and grid connection
Central government sets conditions for wind farm construction, including on their location, the measures to protect nature and the necessary permits. To this end, the government researches the structure of the site, the seabed, wind speeds and water data. This ensures that wind farm developers have all the information they need in advance about how best to build the wind farm.
Central government allocates sites on the basis of competitive tendering, in which wind farm developers bid for permits. The wind farms in the Hollandse Kust (zuid) wind farm zone, which will be taken into commission in 2022 and 2023, will be the first wind farms in the world built without government subsidies. The energy generated by offshore wind farms is brought to land via power cables. As the designated offshore grid operator, TenneT is responsible for connecting wind farms to the onshore power grid that then takes it to energy consumers.
Weighing of interests in relation to offshore wind farms
Central government takes the fullest possible account of other offshore and onshore interests when preparing and implementing the plans for offshore wind energy. A lot of space in the North Sea is already being used, by shipping and fishing and for oil and gas extraction, for example. There are also sand mining areas, Ministry of Defence training zones and nature reserves. At some locations, the sea is too deep to be suitable for wind turbines. The greater the distance to the coast, the longer and more expensive the cabling and maintenance will be as well.
All this makes determining the eventual location of wind turbines very difficult. Relevant factors include affordability and energy yield, as well as the impact on nature and the other interests referred to above, among other things. Central government welcomes the opinions and input of stakeholders and other interested parties in the wind farm development process. The same also applies in respect of the procedures for installing the connections of the offshore grid. The precise location of the shore connection, both at sea and on land, is also discussed at length with local parties in workshops or during information evenings. In addition, anyone may submit an opinion on the final decisions.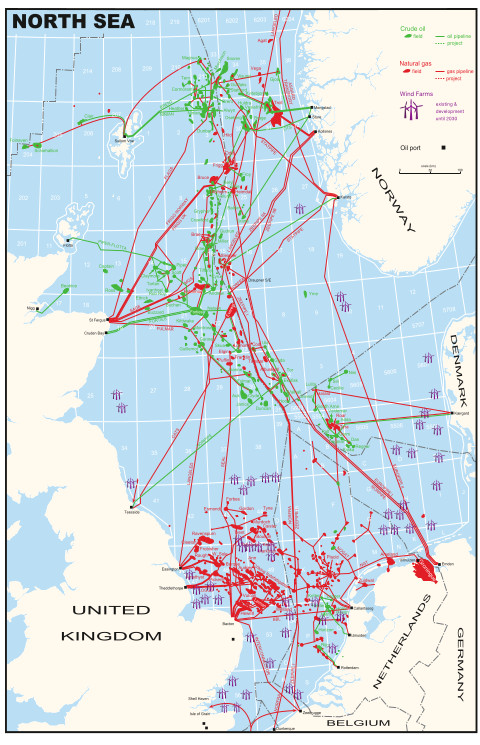 North Sea windfarms existing and development until 2030.
Source: Oil and Gas Portal: www.nlog.nl